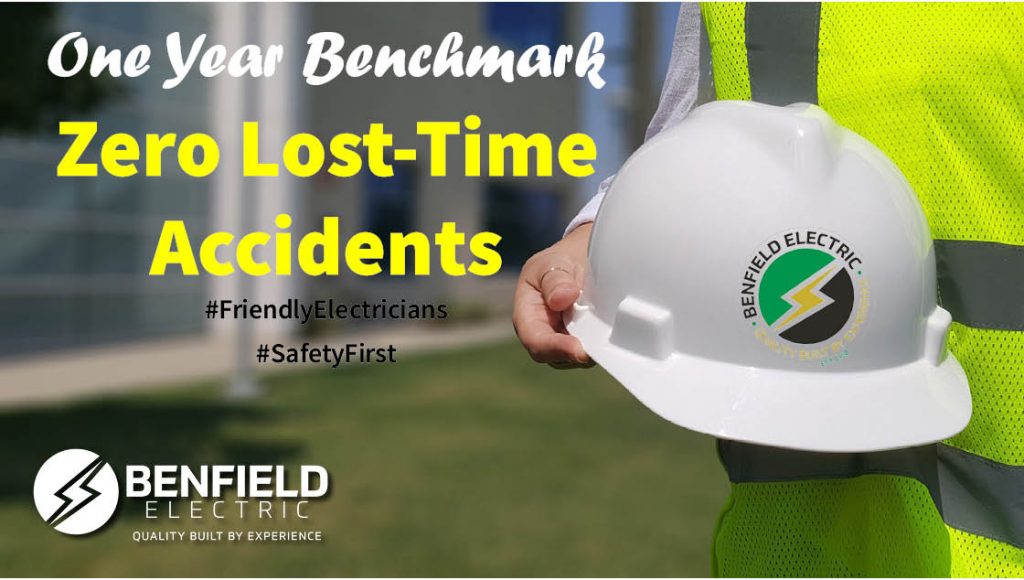 FOR IMMEDIATE RELEASE:
Aberdeen, MD – December 4, 2020 – December 4 marks One-Year of No Lost-Time Accidents for Benfield Electric Co.
"Every Benfield employee should take a lot of pride in this achievement. It is truly a remarkable accomplishment to work one year with no lost-time injuries, especially in construction. Congratulations and thank you to everyone at Benfield who made this possible and who continue to make safety our No. 1 priority each and every day", says Safety Director, Mike Anderson regarding today's one-year benchmark.
A lost-time accident is any work-related injury or illness, occurring on the job, which results in an employee missing days away from work.
Safety is of utmost importance for Benfield Employees and starts from the top down. "I am extremely proud of this achievement. Our greatest concern is the safety of our employees", says Greg Benfield, President of Benfield Electric.
It is benchmarks like safety and a great senior leadership team that make Benfield Electric Co. a truly great place to work.
###
About Benfield Electric Company – www.benfieldinc.com
Founded in 1968, Benfield Electric is a family-owned electrical contractor that has been the go-to choice for commercial builders, home builders, property managers, and homeowners for more than 50 years. Based in Aberdeen, Maryland, today Benfield Electric employs a staff of 200 employees who work on projects throughout Maryland, southern Delaware, and southeast Pennsylvania. From the smallest home improvement or repair project to the largest multi-family or mixed-use project, Benfield Electric gets the job done right—the first time and on time.